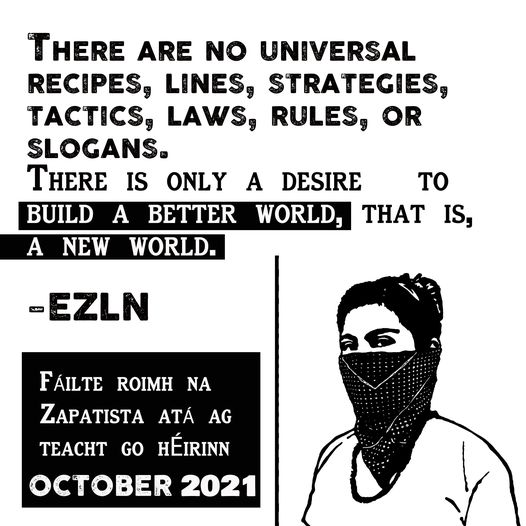 What are we fighting for?
Okay, so long overdue, a quick update and thanks so much for all of your patience. Firstly because of a situation regarding a change in rules for quarantining that arose for the groups organising to host the Zapatistas in Wales, England and Scotland, we in Ireland agreed to host two! not one but two delegations two weeks earlier than we were expecting (our rules are different here). This has meant we have all been organising frantically and dealing with the logistics for a group of 13 Zapatistas who are now going to arrive in Ireland on Tuesday evening October 12th. We totally know that this is short notice and a bit chaotic but we felt very strongly that if we refused we might not get the chance at all to have a delegation here. Our comrades in Wales, Scotland and England have also chipped in to help with flights as a thank you for our efforts to help them out. We are meeting tonight to pin down the exact schedules but for those who need to know it's going to look something like this:
Tuesday 12 Arrive in Dublin
Wednesday 13th Connemara/Galway CityThursday
14th Galway City/ Kinvara (or Clare)
Friday 15th Ennis/Mullaghmore
Saturday 16th Kerry Gealtacht
Sunday 17th Cork City
Monday 18th Cork City/Dublin
Tuesday 19th Dublin 8/City
Wednesday 20th Dublin
Thursday 21st Dublin
Friday 22nd Travel/Rest
Saturday 23rd Tryone (Sperrins)
Sunday 24th Tyrone
Monday 25th Belfast
Tuesday 26th
Belfast keep the events and encuentros as open as possible whilst making sure that we take every possible Covid-19 precaution.
The Zapatistas have been handling the pandemic autonomously in their own communities and health centres and are being extremely cautious when travelling. All of the delegation are vaccinated and they would prefer that anyone in close contact with them is also fully vaccinated.
What the delegations want to do when here is to speak to and engage with communities in resistance and struggle- they want to take their time and have in depth speaking and listening encounters. So this won't be a tour of public lectures or media interviews etc, it will be focussed on how we connect and how we build from the bottom and the left. That's the information for now. We are absolutely delighted that this is happening , that it's happening at this time and all of those organising around the country really hope we do the historic opportunity justice. Back to you all soon with update for each area.'
Please, if can, donate to the Fundraiser for the Journey for Life in Ireland
Follow Fáilte go hÉirinn Zapatistas 2021 for more information on the Journey for Life in Ireland &
the Zapatatista Solidarity Network for more updates on the WISE Islands.
On facebook: FghZapatistas2021 & ZapaSolNet